CAN YOU BEAT SCANDINAVIAS FINEST?
STCC The Game is the official game of "STCC – Swedish Touring Car Championship", the largest and most prestigeuous Nordic motorsport championship.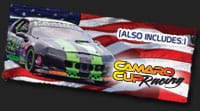 29 unique carmodels in 11 different classes
25 different racing tracks of which 8 are Scandinavian
Multiplayer, up to 25 players online or using AI
Ghost racing against own or others laptimes
Real regulations from both STCC and WTCC
Contains on top of STCC 2008 other known classes such as Camaro Cup, WTCC, Formula 3000 and much more…
STCC The Game appeals to both old and young and features famous drivers like Janne "Flash" Nilsson, Tommy Rustad, Fredrik Ekblom, Richard Göransson and Thed Björk. STCC The Game is a straight through Nordic production, based on Swedish motorsport featuring Nordic drivers in a game which is also developed and published by the Swedish game developers: SimBin.
STCC The Game is based on and includes also all content from RACE 07.
Unfortunately there are no images available about this game yet. Feel free to contact us if you have images regarding this game.